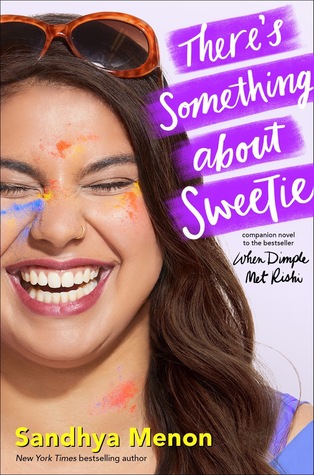 There's Something About Sweetie by Sandhya Menon
Publisher: Simon Pulse (May 14, 2019)
Series: When Dimple Met Rishi #2
Blurb:
Ashish Patel didn't know love could be so…sucky. After he's dumped by his ex-girlfriend, his mojo goes AWOL. Even worse, his parents are annoyingly, smugly confident they could find him a better match. So, in a moment of weakness, Ash challenges them to set him up.
The Patels insist that Ashish date an Indian-American girl—under contract. Per subclause 1(a), he'll be taking his date on "fun" excursions like visiting the Hindu temple and his eccentric Gita Auntie. Kill him now. How is this ever going to work?
Sweetie Nair is many things: a formidable track athlete who can outrun most people in California, a loyal friend, a shower-singing champion. Oh, and she's also fat. To Sweetie's traditional parents, this last detail is the kiss of death.
Sweetie loves her parents, but she's so tired of being told she's lacking because she's fat. She decides it's time to kick off the Sassy Sweetie Project, where she'll show the world (and herself) what she's really made of.
Ashish and Sweetie both have something to prove. But with each date they realize there's an unexpected magic growing between them. Can they find their true selves without losing each other?
---
There's something about Sandhya Menon's novels that always have me bursting with excitement and have the strongest urge to devour them the moment I get them in my hands. There's Something About Sweetie is Sandhya Menon's third novel—and also a companion novel to her runaway best-selling debut, When Dimple Met Rishi—and until today, I cannot decide which is her best because her books are without a doubt, stellar and utterly charming!
As Dimple and Rishi got their love story in their book, the spotlight is now on Rishi's little brother, Ashish, who was introduced in When Dimple Met Rishi. In There's Something About Sweetie, Ashish is heartbroken after he finds out that his girlfriend, Celia, has cheated on him with another guy in college and since then, his life has been going downhill. Believing that he's lost his mojo, he decides to let his parents set him up with a girl. And this girl is none other than star athlete and sunshine personified, Sweetie, who is larger than life!
I will just put this out there. Nothing made me happier when I was reading There's Something About Sweetie than Sweetie being in total control of herself. Coined "Sassy Sweetie Project", Sweetie sets out to prove to herself and everyone that physical appearances are not everything and she is capable of being loved because she's a beautiful person, inside out. Heck, she even addressed that the word "fat" is just an adjective to describe someone's body shape and it was society that gave it an ugly connotation. Mad props for writing such a fat positive story, Sandhya!
Being true to Sandhya Menon's Bollywood-esque style, There's Something About Sweetie is a delectable morsel of a love story that I devoured so happily—staying way past my bedtime and sacrificing sleep as well as missing my train stop accidentally on purpose, just so I could read a few more pages—and wholeheartedly. It was an absolute treat to read such a positive, life-affirming novel that would resonate with Sandhya Menon's readers.
If There's Something About Sweetie a song, it would be the most upbeat, energetic and uplifting songs out there. Issa bop, friends!
As I have already mentioned Bollywood, let's talk about the romance in this super cute romantic love story that had me going "I am flailing, someone hold me because I have suddenly lost the ability to can!". I truly enjoyed the dates they went to, as arranged by Ashish's parents which seemed bizarre at first but boy, did things pan out great for them! Ashish and Sweetie are currently my OTP because both of them just exude cuteness and happiness and sunshine and they deserve all the love in the world. I love how they both understood each other and they connected in a way that was disgustingly cute and sweet and charming at the same time, but maybe it's just my jealousy speaking. Gah, Dimple and Rishi, you have some stiff competition.
I do wish to apologise if this "review" is nothing more than a shameless gush about how much I loved Sandhya Menon's new book and her larger-than-life heroine who is inspiring, confident and beautiful and so comfortable in her own skin. There's Something About Sweetie is more than a love story, it's a love letter to readers out there who should know that they are loved, they inspire people and they are someone's reason to smile.